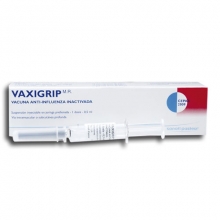 VAXIGRIP PAEDIATRIC INJ.
(1)
Composition:
INFLUENZA VACCINE (SPLIT VIRION)

Group Name:
VACCINES AGAINST INFLUENZA VIRUS
Manufacturer:
SANOFI PASTURE
Product Details
Influenza Virus Vaccine
A to Z Drug Facts
Influenza Virus Vaccine

Action
Indications
Contraindications
Route/Dosage
Interactions
Lab Test Interferences
Adverse Reactions
PrecautionsPatient Care Considerations
Administration/Storage
Assessment/Interventions
Patient/Family Education

Action Induces formation of specific antibodies that protect against those strains of virus from which vaccine is prepared or to closely related strains.
Indications Induction of active immunity against influenza A and B viruses corresponding to strains in current-year vaccine formula; prophylaxis for people at least 6 mo at increased risk of complications or exposure to influenza. Fluvirin is not indicated for children under 4 yr.
Contraindications Immediate hypersensitivity to product or other components; hypersensitivity to eggs or egg products; delayed immunization is recommended for people with active neurologic disorder characterized by changing neurologic findings; defer immunization during acute respiratory disease or other active infection or during acute febrile illness.
Route/Dosage
ADULTS AND CHILDREN AT LEAST 9 YR: IM 0.5 mL 1 dose. CHILDREN 3 TO 8 YR: IM 0.5 mL 1 dose; however, if previously unvaccinated, give 2 doses at least 1 mo apart, administering the second dose before December if possible. CHILDREN 6 TO 35 MO: IM 0.25 mL 1 dose; however, if previously unvaccinated, give 2 doses at least 1 mo apart, administering the second dose before December if possible.
Interactions
Anticoagulants: As with other IM drugs, give with caution to patients receiving anticoagulant therapy. Immunosuppressant drugs (eg, high-dose corticosteroids), radiation therapy: May result in inadequate response to immunization. Pertussis vaccine: In order to attribute causality of adverse reactions, do not give influenza vaccine within 3 days of pertussis vaccination. Theophylline: Theophylline levels may be increased during first 24 hr following vaccination.
Lab Test Interferences None well documented.
Adverse Reactions
Soreness at injection site; fever; malaise; myalgia; Guillain-Barré syndrome; immediate (probably allergic) reactions (eg, hives, angioedema, allergic asthma, systemic anaphylaxis) occur extremely rarely.
Precautions
Pregnancy: Category C. Lactation: Influenza vaccine does not affect the safety of breastfeeding for mothers or infants. Children: Safety and efficacy not established in children less than 6 mo. Safety and efficacy of Fluvirin in children less than 4 yr not established.

PATIENT CARE CONSIDERATIONS


Administration/Storage
Agitate vial before administration.
Use deltoid muscle for adults and older children.
Use anterolateral aspect of thigh for infants older than 6 mo and for young children.
Have epinephrine 1:1000 readily available.
Do not give IV.
Do not give to infants younger than 6 mo.
Do not give within 3 days of vaccination with pertussis vaccine.
Assessment/Interventions
Obtain patient history, including drug history and any known allergies.
Report skin reactions (eg, erythema, rash, induration) or unusual neurological symptoms (eg, paresthesias, paralysis, encephalopathies) to health care provider.
Provide written record of immunization and any untoward effects.
Patient/Family Education
Advise patient that soreness at injection site may occur for 1 to 2 days.
Instruct patient to report fever, malaise, myalgia, weakness, or headache to health care provider.
Remind patient that vaccine needs to be given yearly.
Books@Ovid
Copyright © 2003 Facts and Comparisons
David S. Tatro
A to Z Drug Facts
Substitutes

Manufacturer:

GREEN CROSS CORPORATION

Manufacturer:

ABBOTT INDIA LTD.

(1)
Manufacturer:

BEIJING TIATAN BIOLOGICAL PRODUCT.CO.LTD

(1)
Manufacturer:

SANOFI PASTURE