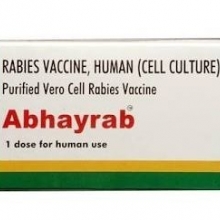 ABHAYRAB INJ.(ANTI-RABIES)
Composition:
PURIFIED LYOPHILIZED RABIES ANTIGEN VACCINE-0.5ML
SODIUM CHLORIDE-0.9%W/V

Group Name:
VACCINE AGAINST RABIES
Manufacturer:
HUMAN BIOLOGICALS INSTITUTE
Product Details
Rabies Vaccine, Human Diploid Cell Cultres (HDCV)
(RAY-beez vaccine)
Imovax Rabies Vaccine, Imovax Rabies I.D. Vaccine
Class: Vaccine, inactivated virus
Action Induces neutralizing antibodies and cellular immunity.
Indications Induction of active immunity against rabies virus either before or after viral exposure.
Contraindications May theoretically be contraindicated in persons who have had life-threatening allergic reactions to rabies vaccine or any of its components. Pre-exposure treatment: developing febrile illness.
Route/Dosage
Preexposure Prophylaxis
ADULTS & CHILDREN: IM 1 ml or Intradermal 0.1 ml (Imovax ID only) on days 0, 7, and 21 or 28.
Postexposure Prophylaxis
ADULTS & CHILDREN: Following RIG administration, IM 1 ml on days 0, 3, 7, 14 and 28. Patients who previously received preexposure prophylaxis: IM 1 ml on only days 0 and 3. Do not give RIG.
Interactions
Chloroquine: Long-term therapy with chloroquine may suppress immune response to intradermal rabies vaccine. Complete pre-exposure rabies vaccination 1 to 2 mo before starting chloroquine administration. Immunosuppressant drugs (including high-dose corticosteroids): May result in insufficient response to immunization. If possible, do not give immunosuppressive agents during postexposure therapy.
Lab Test Interferences None well documented.
Adverse Reactions
CNS: Headache; dizziness. GI: Nausea; abdominal pain. Local: Swelling, erythema, pruritis, local pain and discomfort. OTHER: Muscle aches; slight fever; fatigue; serum-sickness–like reactions with intradermal booster doses.
Precautions
Pregnancy: Category C. Vaccinate if risk of disease outweighs risk to patients. Lactation: Unknown. Hypersensitivity reactions: In persons who experience immune-complex-like (or serum-sickness-like) hypersensitivity reactions during pre-exposure prophylaxis, do not give further doses of rabies vaccine unless they are exposed to rabies or they are likely to be unapparently or unavoidably exposed to rabies virus and have unsatisfactory antibody titers. Intradermal route: Indicated only for preexposure immunization. Pre-exposure immunization: Those at high risk of exposure to the rabies virus require preexposure immunization: veterinarians, certain laboratory workers, animal handlers, forest rangers, spelunkers and persons staying > 1 mo in other countries where rabies is constant threat (eg, India). Postexposure prophylaxis: If bite from animal is unprovoked, animal is not apprehended and rabies is present in that species in area, administer RIG and rabies vaccine. Consider vaccine recipients adequately immunized if they previously completed preexposure or postexposure prophylaxis with either current rabies vaccine (but not Wyvac brand from Wyeth) or have documented adequate antibody response. Radiation therapy: Persons undergoing radiation therapy may experience insufficient response to immunization and remain susceptible. Travelers: Travelers to endemic areas may receive vaccine by intradermal route if 3-dose series can be completed ³ 30 days before departure; otherwise give vaccine IM.
| | |
| --- | --- |
| PATIENT CARE CONSIDERATIONS | --- |
Administration/Storage
Reconstitute vaccine with 1 ml of diluent using a needle longer than the intradermal needle used for administration. Stir contents until dissolved and withdraw amount needed. Remove reconstitution needle and replace with smaller needle for administration.
For postexposure vaccination, do not administer intradermally; administer intramuscularly in deltoid area in older child and adult and in vastis lateralis in young child. Never administer rabies vaccine in gluteal area; this may result in inadequate immune response.
May administer pre-exposure prophylaxis vaccine intradermally. Intradermal injections in lateral aspect of upper arm are less likely to cause adverse reactions than intradermal injections in forearm.
Follow careful recordkeeping when administering vaccine: note manufacturer, lot number, expiration date of vaccine, date of administration and signature of person administering vaccine.
Report severe reaction to FDA through local/state health departments; note reaction on patient chart.
Store under refrigeration; do not freeze.
Assessment/Interventions
Obtain patient history, including drug history and any known allergies. Note previous life-threatening allergic reaction to rabies vaccine or any of its components.
Determine if patient is receiving immunosuppressive therapy.
Assess for allergic reaction (urticaria, breathing difficulty, nausea and vomiting, fever) within 15 min of administration and document patient tolerance of vaccine.
Have epinephrine and antihistamines (eg, diphenhydramine) readily available.
Pre-exposure Prophylaxis
Assess temperature; withhold pre-exposure dose if patient has febrile illness.
Postexposure Prophylaxis
Immediately and thoroughly scrub wounds/scratches with antibacterial soap and water. Dress wound as necessary.
Give tetanus prophylaxis and control bacterial infection (wound management, antibiotics) as ordered.
Patient/Family Education
Advise patient at risk for ongoing rabies exposure to receive rabies booster every 2 yr or more often (per serology q 6 mo) if very high risk (eg, veterinarians).
Advise patient to seek immediate medical attention should future rabies exposure occur. Emphasize danger of wound infection and need to evaluate rabies antibody response.
Teach patient/family wound care and signs of infection (fever, wound drainage, increased pain at wound) prior to discharge.
Advise patient that aspirin/antihistamines can be taken to treat mild local or systemic reactions.
Encourage medical follow-up within 7 to 10 days after discharge for wound evaluation.
Books@Ovid
Copyright © 2003 Facts and Comparisons
David S. Tatro
A to Z Drug Facts
Substitutes
Substitutes not found for ABHAYRAB INJ.(ANTI-RABIES)