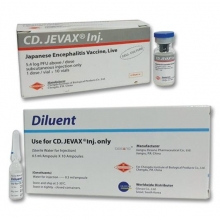 CD JEVAX(J.E.) INJ.
(1)
Composition:
JAPANESE ENCEPHALALITIS

Group Name:
VACCINES AGAINST JAPANESE ENCEPHALITIS
Product Details
Type of vaccine and schedules:
1) Live attenuated vaccine.
In China, the first dose is given subcutaneously at age 8 months, followed by a booster dose at 2 years of age. In some areas, an additional booster is offered at 6–7 years of age. However, protection for several years may be achieved with a single dose of this vaccine, and in many countries one dose without subsequent boosters is recommended.

2) Inactivated, Vero cell-derived, alum-adjuvanted vaccine (SA 14- 14-2 strain). Primary immunization consists of two intramuscular doses, 4 weeks apart. A booster is recommended after 1 year.
PLEASE READ THE LEAFLET GIVEN INSIDE THE VIAL FOR MORE DETAILS.
Substitutes

(1)
Manufacturer:

GREEN CROSS CORPORATION