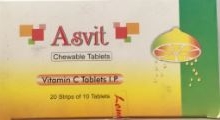 ASVIT TAB
(10X10)
Composition:
ASCORBIC ACID(VIT-C)-500MG

Group Name:
VITAMIN AND MINERALS
Manufacturer:
LOMUS PHARMACEUTICALS PVT LTD.
Product Details
Ascorbic Acid (Vitamin C)
A to Z Drug Facts
Ascorbic Acid (Vitamin C)

Action
Indications
Contraindications
Route/Dosage
Interactions
Lab Test Interferences
Adverse Reactions
PrecautionsPatient Care Considerations
Administration/Storage
Assessment/Interventions
Patient/Family Education

(ASS-kor-bik acid)Cecon, Cevi-Bid, Chewable Vitamin C, Dull C, Fruit C 500, Fruit C 100, Fruit C 200, N'ice Vitamin C Drops, SunKist Vitamin C, Vicks Vitamin C Drops, Vita-C,
APO-C, Redoxon, Revitalose-C-1000, TimeTec Timed Release Vitamin C, Timedose Vitamin CClass: Vitamin
Action Essential vitamin believed important for synthesis of cellular components, catecholamines, steroids, and carnitine.
Indications Prevention and treatment of scurvy. Unlabeled use(s): Treatment of idiopathic methemoglobinemia; combination therapy with methenamine to increase acidity of urine. Although not proven scientifically, prevention of common colds and treatment of cancer, asthma, atherosclerosis, burns, and other wounds. Topical: Topical vitamin C may photoprotect against UVR because of its antioxidant and anti-inflammatory properties.
Contraindications Standard considerations.
Route/Dosage
ADULTS: PO Recommended daily allowance 60 mg; average protective dose 70 to 150 mg/day. NICOTINE USE: The RDA for smokers is 100 mg/day because of an increased utilization of vitamin C. HIGH DOSE THERAPY: Taper vitamin C prior to discontinuing supplementation.
Parenteral
Used in acute deficiency or when oral absorption is uncertain. Avoid rapid IV administration. SCURVY: IV/IM/SC 75 to 150 mg/day; up to 6 g/day has been administered without toxicity. ENHANCED WOUND HEALING: PO 300 to 500 mg/day for 7 to 10 days has been given.
Interactions None well documented.
Lab Test Interferences Amine-dependent tests for occult blood in stool: May cause false-negative results. Urine glucose determinations: May cause false-negative determinations.
Adverse Reactions
CNS: Faintness or dizziness may occur with rapid IV administration. GI: Diarrhea; nausea; vomiting. GU: Excessive doses over long period of time may cause precipitation of cystine, oxalate or urate crystals in kidney. OTHER: Injection site irritation may occur with IM or SC administration.
Precautions
Pregnancy: Category A. (Category C in doses > the RDA). Lactation: Excreted in breast milk. Excessive doses: Diabetics, patients prone to renal calculi, patients on sodium restricted diets, and those taking anticoagulants should not take excessive doses (> 5 g/day) over extended periods of time. Sulfite sensitivity: Some products contain sulfites, which may precipitate a reaction in sensitive individuals. Tartrazine sensitivity: Some products contain tartrazine, which can precipitate breathing difficulties in sensitive individuals.

PATIENT CARE CONSIDERATIONS


Administration/Storage
Check expiration date on container for oral tablets; product is relatively unstable after exposure to air and light.
Cover IV bag to protect from light if being administered IV.
Refrigerate when possible, although storage at room temperature is acceptable.
Discard IV solution after 24 hr.
Assessment/Interventions
Obtain patient history, including drug history and any known allergies.
Evaluate patient for signs of vitamin C deficiency before and during therapy.
Monitor pH of urine if patient is being treated for renal stones.
If patient experiences dizziness or syncope, stop administration and notify physician.
Rotate injection or infusion sites to reduce irritation.
Patient/Family Education
Explain that taking product with foods high in iron will enhance absorption of iron.
Explain to any patient scheduled for glucose studies that product should not be taken for ³ 48 to 72 hr before test.
Inform patient that abruptly stopping high-dose therapy may lead to loosening of teeth and bleeding gums.
Books@Ovid
Copyright © 2003 Facts and Comparisons
David S. Tatro
A to Z Drug Facts
Substitutes
Substitutes not found for ASVIT TAB