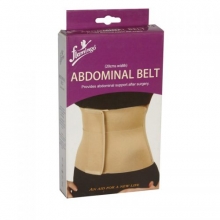 ABDOMINAL BELT-MEDIUM
Composition:
ABDOMINAL BELT

Product Details
Abdominal Belt
Discreption:
It provide abdominal support after surgery or after delivery.
Very common in pregnant women.
Use of a maternity support belt can provide benefits like less backache, reduced pressure on the bladder, less varicosities and swelling in pelvic region.
Flamingo abdominal belt (20cm width) gives you a great relief.
Offers good compression, helps control edema and assist early mobility
Made of superior quality, breathable elsatic band
Broad elastic for better compression
Have fexible stays to prevent edge rool over when worn.
Warning:
Use this product under strict guidance of qualified professional.
Carefully read instructions for use and warnings prior to use.
Source: Flamingo
Substitutes




Manufacturer:

GLOBAL SURGICAL TRADE CONCERN

Manufacturer:

GLOBAL SURGICAL TRADE CONCERN