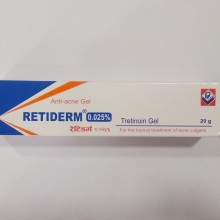 RETIDERM-0.025% GEL-20G.
Composition:
TRETINOIN-0.025%W/W

Manufacturer:
DJPL-AAROGYAM-DIVISION
Product Details
Tretinoin

Actions
Indications
Contraindications
Route/Dosage
Interactions
Lab Test Interferences
Adverse Reactions
PrecautionsPatient Care Considerations
Administration/Storage
Assessment/Interventions
Patient/Family Education

(trans-Retinoic Acid, Vitamin A Acid)(TREH-tih-NO-in)AvitaCream0.025%RenovaCream0.05%Retin-ACream0.025%Cream0.05%Cream0.1%Gel0.025%Gel0.01%Retin-A MicroGel0.1%VesanoidCapsules10 mgRetisol-AStieva-A-A ForteVesanoidVitamin A AcidVitinoinClass: Retinoids
Actions Topical: Decreases cohesiveness and stimulates mitotic activity and turnover of follicular epithelial cells, resulting in decreased formation and increased extrusion of comedones.
PO: Induces maturation of acute promelocytic leukemia cells. When given PO, time to reach peak concentration was between 1 and 2 hr. Tretinoin is more than 95% bound in plasma, predominantly to albumin. CYP450 enzymes have been implicated in the oxidative metabolism of tretinoin.
Indications Topical treatment of acne vulgaris; as an adjunctive agent for use in the mitigation of fine wrinkles, mottled hyperpigmentation, and tactile roughness of facial skin. PO treatment for acute promyelocytic leukemia.
Treatment of skin cancer; various dermatologic conditions including lamellar ichthyosis, warts, and Darier disease.
Contraindications
Renova only
Do not use if sunburned or have eczema, highly sensitive to the sun, or with skin irritation.
Route/Dosage
Treatment of Acne
ADULT/PEDIATRIC: Topical Apply lightly to affected area qd before bedtime. May reduce interval to once q 2 to 3 days if severe irritation occurs.
Treatment of Fine Wrinkles, Hyperpigmentation, and Tactile Roughness of Facial Skin
ADULT: Topical Apply lightly to affected area. Use smallest amount possible.
Acute Myelocytic Leukemia
ADULT/PEDIATRIC (more than 1 yr): PO 45 mg/m2/day in 2 divided doses. Continue therapy for a max duration of 90 days or for 30 days after achieving complete remission, whichever is shorter.
Interactions
Benzoyl peroxide, cosmetics with drying effects, resorcinol, salicylic acid, soaps, or sulfur
May result in significant skin irritation.
CYP450
Elimination may be altered by agents that inhibit or induce CYP450 enzymes.
Photosensitizers (eg, fluoroquinolones, phenothiazines, tetracyclines, thiazide diuretics, sulfonamides)
May augment photosensitivity.
Lab Test Interferences None well documented.
Adverse Reactions
CARDIOVASCULAR: Fluid retention; chest discomfort; arrhythmias; flushing; hypotension; hypertension; phlebitis. CNS: Fatigue; weakness; headache; fever; malaise; dizziness; anxiety; paresthesia; insomnia; depression; confusion; agitation; hallucination; severe headache may be more common in children; cerebral hemorrhage; intracranial hypertension; pseudotumor cerebri. DERMATOLOGIC: Dry skin and mucous membranes; rash; pruritus; increased sweating; alopecia. ENDOCRINE: Hypercholesterolemia; hypertriglyceridemia; weight gain/loss. GI: Nausea and vomiting; elevated LFTs; GI hemorrhage; abdominal pain; mucositis; diarrhea; anorexia; constipation; dyspepsia. GU: Renal insufficiency; flank pain; dysuria; spontaneous abortion; fetal malformations. HEMATOLOGIC: Hemorrhage; DIC. MUSCULOSKELETAL: Bone pain; shivering; myalgia. RESPIRATORY: Upper and lower respiratory tract disorders; dyspnea; pleural effusion. SPECIALSENSES: Visual or ocular disturbances; ear fullness; earache. OTHER: Retinoic acid-acute promyelocytic leukemia syndrome, characterized by fever, dyspnea, weight gain, radiographic pulmonary infiltrates, and pleural or pericardial effusions; infections.
Precautions
Pregnancy: Category C (topical). Category D (PO). Lactation: Undetermined. Children: Safety and efficacy in patients less than 18 yr not established (Renova only). External use only: Keep away from eyes, mouth, angles of nose, mucous membranes, and open wounds. Irritation: May cause severe local irritation. May need to use less often or discontinue temporarily or completely. Leukocytosis: During treatment, approximately 40% of patients will develop rapidly evolving leukocytosis. Lipids: Up to 60% of patients experienced hypercholesterolemia or hypertriglyceridemia, which were reversible upon completion of treatment. Photosensitivity: Tumorigenic potential of ultraviolet radiation may be accelerated. Photosensitization may occur. Pseudotumor cerebri: Retinoids, including tretinoin, have been associated with pseudotumor cerebri (benign intracranial hypertension), especially in children. Retinoic acid-APL syndrome: About 25% of APL patients treated with tretinoin have experienced retinoic acid-APL syndrome characterized by fever, dyspnea, weight gain, radiographic pulmonary infiltrates, and pleural or pericardial effusions.

PATIENT CARE CONSIDERATIONS


Administration/Storage
Cream/Gel
Apply at bedtime.

Wash hands and cleanse affected area thoroughly and dry completely before topical application.
Apply lightly to affected area using gauze pad, cotton swab, or fingertip. Wash hands immediately after application.
Avoid applying around eyes, mouth, angles of nose, mucus membranes, and open wounds.
Do not apply other topical acne products at same time as tretinoin. In some cases other topical acne products may be applied at other times of the day.
Oral capsules
Administer bid in evenly divided doses with food.
Store capsules at controlled room temperature. Protect from light.
Assessment/Interventions
Cream/Gel
Assess and document skin condition before initial application and throughout treatment.
Monitor for side effects including red, irritated, blistered, or crusted skin.
Assess for photosensitivity reactions.
Oral capsules
Obtain patient history, including drug history and any known allergies. Note history of allergy to parabens.
Ensure that CBC and differential are determined before and periodically during therapy.
Ensure that liver enzymes are determined before and periodically during therapy. Be prepared to temporarily withhold therapy if liver enzymes elevate to greater than 5 times upper limit of normal values.
Ensure that sexually active women have negative pregnancy tests before starting therapy.
Ensure that sexually active women, including those with history of infertility or menopause, are using 2 reliable forms of contraception during and for 1 mo following therapy unless a hysterectomy has been performed.
Monitor patient for signs and symptoms of RA-APL syndrome (eg, fever, dyspnea, weight gain). Inform health care provider if noted.
Monitor patient for signs and symptoms of pseudotumor cerebri (eg, headache, nausea, vomiting, visual changes). Inform health care provider if noted.
Monitor patient for GI, CV, CNS, RESP, and general body side effects. Inform health care provider if noted and significant.
OVERDOSAGE: SIGNS & SYMPTOMS Topical: redness, pain, blistering, cracking of the skin. PO: headache, facial flushing, cheilosis, abdominal pain, dizziness, ataxia.
Patient/Family Education
Cream/Gel
Advise patient that this is a serious medicine and use only as part of a comprehensive program that includes the use of sunscreens, non-oil-based moisturizers, and avoidance of exposure to direct sunlight and the use of sunlamps.
Inform patient that topical therapeutic response should be seen after 2 to 3 wk, but may not be optimal for 6 wk.
Advise patient that acne symptoms may worsen initially, but do not discontinue therapy at this time.
Instruct patient to thoroughly cleanse area before topical application; to avoid application around eyes, mouth, angle of nose, mucus membranes, and open wounds and to thoroughly wash hands immediately after application.
Advise patient that normal use of cosmetics is allowed but instruct patient to avoid oil-based cosmetics.
Advise patient not to apply other acne products at the same time as tretinoin, and not to apply tretinoin more than once daily.
Advise patient that medicated soaps and cosmetics that have a strong drying effect and products with high concentrations of alcohol, astringents, spices, or lime (eg, shaving lotion) may worsen dry skin.
Explain that temporary hypopigmentation or hyperpigmentation may occur at application site.
Instruct patient to discontinue use and consult health care provider if sensitivity or increased irritaion occurs.
Oral capsules
Explain name, dose, action, and potential side effects of drug.
Explain that medication is used for induction of remission of leukemia and that maintenance therapy will be needed following successful induction.
Advise patient to take prescribed dose bid with meals.
Advise patient that if a dose is missed, take it as soon as possible, but if close to the next dose, do not double the dose to catch up, and take the next dose as scheduled.
Advise patient, family, or caregiver to immediately report any of the following to the health care provider: difficulty breathing; rapid weight gain; visual changes; fever, chills, or other signs of infection; sore throat; unusual bruising or bleeding.
Advise patient, family, or caregiver to inform health care provider of any of the following: persistent severe headache; persistent nausea, vomiting; severe skin or mucus membrane dryness.
Advise patient that drug may cause dizziness or confusion and to use caution while driving or performing other tasks requiring mental alertness.
Instruct sexually active women that unless they have had a hysterectomy to use 2 reliable forms of contraception during and for 1 mo following completion of therapy.
Instruct women of child bearing potential to notify health care provider if pregnant, planning to become pregnant, or breastfeeding.
Instruct patient not to take any prescription or OTC medications or dietary supplements unless advised to do so by the health care provider.
Advise patient that follow-up examinations and lab tests will be required to monitor therapy and to keep appointments.
Books@Ovid
Copyright © 2003 Facts and Comparisons
David S. Tatro
A to Z Drug Facts
Substitutes

Manufacturer:

ASIAN PHARMACEUTICALS-NAISA-DIVISION

(1)
Manufacturer:

PANAS PHARMACEUTICALS- NUZEN DIVISION

Manufacturer:

ALKEM-DERMACARE DIVISION

(1)
Manufacturer:

NATIONAL HEALTHCARE P. LTD., DERMA DIVISION