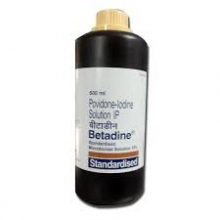 BETADINE-10% 500ML
(1)
Composition:
POVIDONE-IODINE-10%W/W

Group Name:
TOPICAL ANTISEPTIC
Manufacturer:
WIN-MEDICARE PVT LTD
Product Details
POVIDONE IODINE
Indication
For topical application in the treatment and prevention of infection in wounds.
Associated Conditions
Associated Therapies
Pharmacodynamics
Povidone iodine is a kind of iodine disinfectant which directly cause in vivo protein denaturation, precipitation of bacteria, and further resulting in the death of pathogenic microorganisms. Therefore, it is effective in disinfection and sterilization. It can kill viruses, bacteria, spores, fungi, and protozoa with low toxicity to human. Povidone-iodine aqueous solution has strong pharmacological activity against Staphylococcus aureus, Neisseria gonorrhoeae, Pseudomonas aeruginosa, syphilis, hepatitis B virus, HIV, and Trichomonas vaginalis. Povidone iodine gel is a gynecological topical semi-mobile colloidal agent made by povidone iodine and hydrophilic matrix. It is a system for maintaining its sustained release. Owing to the continuous release of free iodine, it can enable the skin and mucous membranes to maintain a certain effective concentration of iodine for killing bacteria. It is mainly used for gynecological vaginal infection. It exerted its effect through being miscible with vaginal secretions and further killing the inside pathogenic microorganisms, and thus blocking the spread of sexually transmitted diseases and invasion, as well as treating other infected vaginal diseases caused by other kinds of bacteria.
Mechanism of action
Povidone-iodine is called iodophore which means povidone acts as a carrier of iodine. Iodine is considered as the active moiety that mediates microbicidal actions. When released from the complex, free iodine (I2) penetrates the cell wall of microorganisms quickly, and the lethal effects are believed to result from disruption of protein and nucleic acid structure and synthesis. While the full mechanism of action is not fully elucidated, iodine is thought to inhibit vital bacterial cellular mechanisms and structures, and oxidizes nucleotides fatty or amino acids in bacterial cell membranes [1]. Additionally, free iodine disrupts the function of the cytosolic enzymes involved in the respiratory chain, causing them to become denatured and deactivated [1]. In vitro evidence suggests that iodine also counteracts inflammation elicited by both pathogens and the host response via multifactorial effects. In hosts, povidone-iodine was demonstrated to modulate the redox potential, inhibit the release of inflammatory mediators such as TNF-α and β-galactosidase, inhibit metalloproteinase production, and potentiate the healing signals from pro-inflammatory cytokines by activation of monocytes, T-lymphocytes, and macrophages, in vitro [1].
Absorption
Povidone-Iodine is intended for topical application and is not absorbed.
Volume of distribution
Povidone-Iodine is intended for topical application and has no volume of distribution.
Protein binding
To be used topical. No plasma protein binding reported.
SOURCE: DRUGBANK
Substitutes

(1)
Manufacturer:

WIN-MEDICARE PVT LTD

Manufacturer:

WIN-MEDICARE PVT LTD

Manufacturer:

BIOGAIN REMEDIES P. LTD.

(1)
Manufacturer:

WOCKHARDT

Manufacturer:

MARUTI PHARMA PVT. LTD.

Manufacturer:

MARUTI PHARMA PVT. LTD.