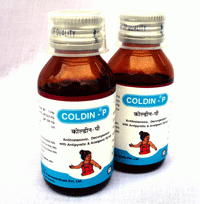 COLDIN-P SYRUP-50ML
(1)
Composition:
PARACETAMOL-125MG/5ML
CHLORPHENIRAMINE-1 MG/5ML
PSEUDOEPHREDINE 15MG/5ML

Group Name:
ANTI-COLD MEDICINE
Manufacturer:
DJPL DIVISION-II
Product Details
MECHANISM OF ACTION
Pseudoephedrine (Sympathomimetic decongestant): It stimulates certain receptors in blood vessels to cause them to constrict. This reduces blood flow to the nose, nasal passage and sinuses, decreasing swelling and nasal discharge. It acts directly on alpha-adrenergic receptors in the mucosa of the respiratory tract, and produces vasoconstriction. Pseudoephedrine relaxes bronchial smooth muscle by stimulating beta2-adrenergic receptors. Like ephedrine, pseudoephedrine releases nor epinephrine from storage sites, and indirect effect making easier to breath. This is known as a decongestant action.
Chlorpheniramine Maleate (Antihistamines): It helps reduce allergic symptoms by preventing the effects of a substance called histamine. Histamine is produced by the body in response to foreign substances that the body is allergic to. It also causes sedation.
Paracetamol (Analgesic, Antipyretic): It works to stop the pain messages from getting through to the brain. It also acts in the brain to reduce fever.
INDICATION:
Coldin provides relief from multiple symptoms associated with allergy, congestion, cold& flu:
Relieves blocked noses (Nasal Congestion)

Dries runny noses

Reduces sneezing

Provides temporary relief from pains and headaches

Fever
Substitutes
Substitutes not found for COLDIN-P SYRUP-50ML