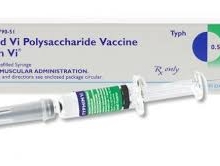 TYPHIM VI INJ.
(1)
Composition:
TYPHOID VACCINE

Group Name:
VACCINES AGAINST TYPHOID
Manufacturer:
SANOFI PASTURE
Product Details
Inactivated typhoid vaccine (shot)
One dose provides protection. It should be given at least 2 weeks before travel to allow the vaccine time to work.
A booster dose is needed every 2 years for people who remain at risk.
Substitutes
Substitutes not found for TYPHIM VI INJ.