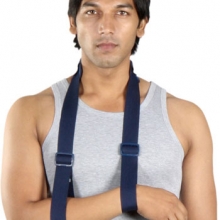 Product Details
ARM SLING STRAP
A simple heavy-duty strap with two way buckle system helps to suspend the forearm with the elbow in 90 degrees flexion
INDICATION:
Support to the arm or shoulder in case of conservative or surgical management of strain, sprain & fractures.
Hemi-sling support to the subluxed shoulder following cardiac stroke.
INSTRUCTION:
Insert the hand and forearm (to be suspended) through one end of the loop in the strap and position the loop near the elbow.
Bring the strap around the neck to slide the second loop also into the same hand and position it near the wrist. Adjust strap length using the sliding buckles.
For hemisling support, bring the second loop of the strap from back side through the armpit and then, over the other shoulder for suspending the forearm.
PRECAUTION:
Hand wash using cold water and mild soap.
Air dry in shade.
Do not brush hard.
Do not squeeze.
No machine wash.
Substitutes