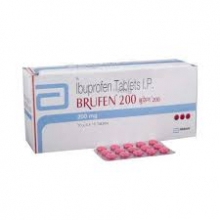 BRUFEN-200MG
(10)
Composition:
IBUPROFEN-200MG

Group Name:
NSAIDS-ANTIPYRETIC/ANALGESICS
Manufacturer:
ABBOTT INDIA LTD.
Product Details
Ibuprofen
A to Z Drug Facts
Ibuprofen

Action
Indications
Contraindications
Route/Dosage
Interactions
Lab Test Interferences
Adverse Reactions
PrecautionsPatient Care Considerations
Administration/Storage
Assessment/Interventions
Patient/Family Education

(eye-BYOO-pro-fen)Advil, Advil Liqui-Gels, Advil Migraine, Children's Advil, Children's Motrin, Genpril, Haltran, Infant's Motrin, Junior Strength Advil, Junior Strength Motrin, Menadol, Midol Maximum Strength Cramp Formula, Motrin, Motrin IB, Motrin Migraine Pain, Nuprin, PediaCare Fever, Pediatric Advil Drops,
Actiprofen, Alti-Ibuprofen, Apo-Ibuprofen, Novo-Profen, Nu-IbuprofenClass: Analgesic/NSAID
Action Decreases inflammation, pain, and fever, probably through inhibition of cyclooxygenase activity and prostaglandin synthesis.
Indications Relief of symptoms of rheumatoid arthritis, osteoarthritis, mild-to-moderate pain, primary dysmenorrhea, reduction of fever. Unlabeled use(s): Symptomatic treatment of juvenile rheumatoid arthritis, sunburn, resistant acne vulgaris.
Contraindications Hypersensitivity to aspirin, iodides, or any other NSAID.
Route/Dosage
Rheumatoid Arthritis and Osteoarthritis
Adults: PO 300 to 800 mg tid to qid, not to exceed 3.2 g/day.
Mild-to-Moderate Pain
ADULTS: PO 400 mg q 4 to 6 hr prn.
Primary Dysmenorrhea
ADULTS: PO 400 mg q 4 hr prn.
Juvenile Arthritis
CHILDREN: PO 30 to 40 mg/kg/day in 3 to 4 divided doses.
Fever Reduction
CHILDREN 1 to 12 yr: £ 39.2° C (102.5° F) recommended dose PO 5 mg/kg; > 39.2° C (102.5° F) recommended dose PO 10 mg/kg; maximum daily dose 40 mg/kg.
OTC Use (Minor Aches/Pains, Dysmenorrhea, Fever Reduction)
PO 200 mg q 4 to 6 hr. Do not exceed 1.2 g in 24 hr or take for pain for > 10