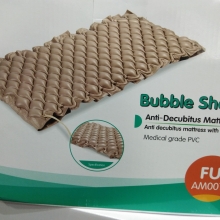 AIR MATTRESS
Composition:
AIR MATTRESS

Product Details
Description:
Effective alternating pressure system and is an ideal for prevention and bedsores treatment of patients at low risk of pressure ulcers.

This alternating pressure pad is composed of 2.5"-high bubble cells overlay mattresses and easy to install.

It brings to you anti- decubitus air pump and bubble mattress specifically designed for prevention of bedsores.

Simple to operate , portable and light-weight, this mattress useful for pressure ulcer prevention and treatment.

On/Off switch & rotary dial for pressure setting.

Comfortable, Perfect finish, Robust design, Stunning design.
Specifications
AIR PUMP
Power supply :
AC220V/50Hz
Air output :
6 - 7 liter/min.
Pressure range :
40 mmHg - 100 mmHg
Cycle time :
5 to 6 min.
Power consumption :
5W
Size :
26.5cm (L) x 11cm (W) x 12.5cm (H)
Fuse :
1A
Weight :
1.5 kg
Noise :
45db
Safety Standard :
CE

BUBBLE MATTRESS

Size :
190cm (L) x 90cm (W) x 6.5cm (H)
No of bubble cell:
130
Material :
Medical grade PVC, Non Toxic
Color :
blue / beige
Thickness :
3.5mm
Weight capacity :
100 Kg
Weight :
2.5 Kg
Inflated Height of bubble :
2.5"
With end flap Air hose, Repair kit, fuse and air filter included
Source: Olexcare
Substitutes
Substitutes not found for AIR MATTRESS