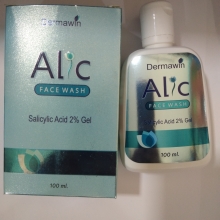 ALIC FACE WASH 100ML
Composition:
SALICYLIC ACID 2%W/W

Group Name:
KERATOLYTIC AGENT
Manufacturer:
DERMAWIN PHARMACEUTICALS
Product Details
Salicylic acid is a keratolytic (peeling agent). Salicylic acid causes shedding of the outer layer of skin.
Salicylic acid topical (for the skin) is used in the treatment of acne, dandruff, seborrhea, or psoriasis, and to remove corns, calluses, and warts.
How should I use salicylic acid topical?
Salicylic acid topical is available in many different forms, such as liquid, gel, lotion, cream, ointment, foam, soap, shampoo, cloth pads, and skin patches. Use exactly as directed on the label, or as prescribed by your doctor.
Salicylic acid topical can cause a rare but serious allergic reaction or severe skin irritation. Before you start using salicylic acid topical, you may choose to apply a "test dose" to see if you have a reaction. Apply a very small amount of the medicine to 1 or 2 small acne areas every day for 3 days in a row. If there is no reaction, begin using the full prescribed amount on the 4th day.
Do not take by mouth. Topical medicine is for use only on the skin.
Read and carefully follow any Instructions for Use provided with your medicine. Ask your doctor or pharmacist if you do not understand these instructions.
You may need to shake the medicine before use. Follow all directions on the product label.
It may take up to several days before your symptoms improve. Call your doctor if your symptoms do not improve, or if they get worse.
Do not use salicylic acid topical to treat any skin condition that has not been checked by your doctor.
Store at room temperature away from moisture and heat.
Keep the foam canister away from open flame or high heat. The canister may explode if it gets too hot. Do not puncture or burn an empty aerosol canister.
Salicylic acid topical side effects:
Salicylic acid topical can cause a rare but serious allergic reaction or severe skin irritation. These reactions may occur just a few minutes after you apply the medicine, or within a day or longer afterward.
Stop using this medicine and get emergency medical help if you have signs of an allergic reaction: hives, itching; difficult breathing, feeling light-headed; swelling of your face, lips, tongue, or throat.
Also stop using salicylic acid topical and call your doctor at once if you have:
Substitutes

Manufacturer:

QUEST LIFESTYLE P. LTD.

Manufacturer:

CURATIO HEALTHCARE PVT. LTD.