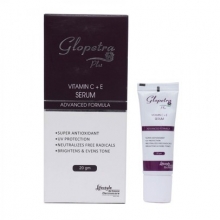 GLOPETRA PLUS 20G.
Composition:
VITAMIN-C PLUS E SERUM

Group Name:
ANTI-OXIDANTS
Manufacturer:
PROVERDA HERBALS
Product Details
Glopetra Plus Serum
Formulated With Vitamin C & E Complex Penetrates Deep Into The Skin To Hydrate, Brighten And Help Reduce Pigmentation And Fine Lines.
Its Acts As A Super Antioxidant Which Helps In Providing Best Skin Health.
Vitamin C Boosts Your Skin's Collagen Production To Give You A Firmer, More Plump Skin And Smooth Out Fine Lines And Wrinkles. The Antioxidant Properties Of Vitamin C Help Fight Free Radicals And Damage Caused By UV Radiation Leaving You With A Younger Looking Skin.
Vitamin E Reduces The Appearance Of Scars. It Helps To Moisturize The Skin For A Softer And Smoother Skin.
This Serum Also Helps In Brightening The Face And Maintains Even Skin Tone.
Product Description
Murtela's Glopetra Serum Is Formulated With Proprietary Vitamin C Complex And Other Actives That Stimulates Collagen Production And Assists In The Improvement Of Radiance, Elasticity And Skin Texture. It Helps To Reduce Pigmentation, Refine Pores And Provide Ongoing Protection Against Future Sun Damage Leaving More Radiant, Even Toned Complexion And Quell Dryness By Helping Skin Retain Its Natural Moisturizers. Vitamin C & E Help Brighten, Stimulate Collagen Production, Minimize Fine Lines, Wrinkles And Other Signs Of Ageing. It Helps To Protect The Skin From UV Damage Due To Its Antioxidant Properties. It Plumps And Hydrates The Skin For A Youthful Resilience. It Also Helps In Neutralizing Free Radicals To Slow Down The Ageing Process, Fade Age Spots And Offers You A Rejuvenated Skin. It Repairs By Penetrating Deep Into The Skin To Hydrate, Brighten, And Help Reduce Pigmentation And Fine Lines.
Substitutes

Manufacturer:

THE DERMA CO

Manufacturer:

DREAMAX HEALTHCARE PVT. LTD.